Is the USA your choice for study?
Open Doors to Limitless Opportunities: Achieve Your Dreams with a USA Education.
We are happy to help you 24/7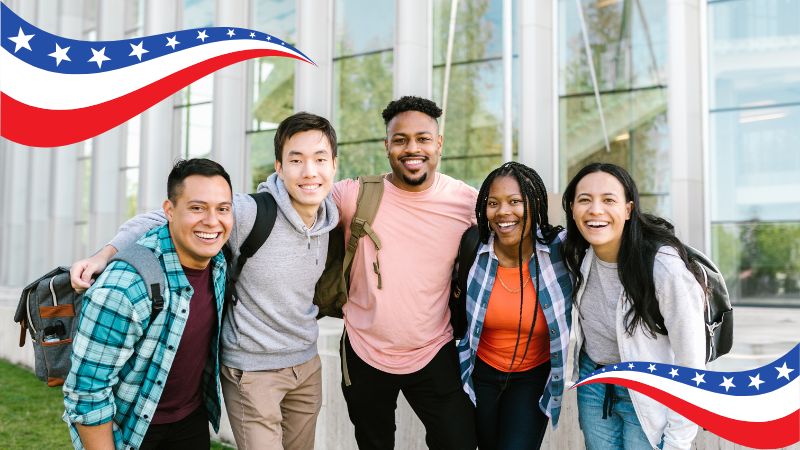 Triospace Overseas is a leading and the best USA education consultants in hyderabad that specializes in guiding students through the process of studying abroad, with a primary focus on pursuing higher education in USA. Their dedicated team provides comprehensive support to ensure a seamless transition and successful academic journey.
USA is a popular destination for international students due to its high-quality education system, diverse culture, and welcoming environment. Triospace Overseas highlights the advantages of studying in USA, including world-renowned universities, innovative research opportunities, and a multicultural society. Here are few why we choose USA as our Study destination.
Triospace Overseas is the best USA education consultants in hyderabad offers personalized guidance to students seeking to study in USA. They assist students in selecting universities and programs that align with their academic interests and career aspirations. Their experts provide insights into the academic strengths of different institutions and help students make informed decisions.
Phd, Advanced Or Professional Degree
Master's Degrees
Bachelor's Degrees
Associate Degrees
Fall (September), Summer (May ) and Spring (January)
There are three main intakes in USA: 
Summer, Spring and Fall. Spring intake happens in January, Summer in May, and Fall intake starts in September.
The majority number of admissions happen in September, so naturally, the fall intake is considered the primary intake
Recognizing the financial challenges students may face, Triospace Overseas actively supports students in exploring scholarship opportunities available in USA. They provide information about scholarships offered by universities, government agencies, and private organizations, helping students secure funding for their education. As there is a huge number of Universities only few are listed below to get an idea on what basis the Scholarships are offered mostly based on the Entry requirement and the outstanding profiles of the students.
| | |
| --- | --- |
| University | Scholarships |
| University of New Haven | Upto 3000 $ Merit scholarship with 3.3 GPA |
| Bradley University | 10 % Merit Scholarship with 3.25 – 3.75 GPA |
| Saint louis University | Upto 50 % Merit Scholarship with 3.2 GPA |
| Wright state University | Upto $2500 for 2.7-2.9 GPA,5000 $ 3.0 and above |
| Southern Connecticut State University | Eligible for merit scholarship of $1500-$3000 with 3.0 GPA |
| University of North Texas | 10 % Merit scholarship with above 3.0 GPA |
| University of Colorado Student Springs | International Student may be eligible. The Qualified graduate applicants are awarded with $4000 Scholarships. Applicant must have 3.33 GPA and enrolled full time (5 or more credit hours) in a UCCS graduate program. |
| University of Michigan | Graduate Merit scholarship Upto $ 10,000 with 3.2 GPA |
| Gannon University | Upto $ 7500 Merit scholarship with 3.2 GPA |
| Southeast Missouri State University | International student scholarship – graduate: Upto $2,000 |
| Wichita State University | International Student Scholarship – Upto $1000 per academic year |
| Western Michigan University | International student merit scholarship for Bachelors – $ 5000 per year with 3.5 – 4.0 GPA |
| University of Alabama at Birmingham | International student merit scholarship upto $1500 |
Triospace Overseas simplifies the USA visa application process by providing step-by-step guidance. They ensure that students are well-informed about the required documents, including the study permit application, financial documents, and English language proficiency proof. Their experts offer mock visa interviews and tips for a successful application.I20 is the final document that student receives once all the University requirements in terms of Academic records and financial stability of the Student, Then Student can go ahead and proceed with his Visa Application. Here Our Team will assist the student to complete the important documentation like DS160, Sevis fee and to book the slot for OFC(Finger prints at Consulate) and F2F Interview with the Visa Officer at respective consulate according to the student choice and availability.
Understanding the importance of a smooth transition, Triospace Overseas helps students adapt to life in USA. They provide information about accommodation options, cultural integration, local resources, and support services available on campus. This ensures that students are well-prepared to thrive academically and socially. United states of America is always a dream for Students who aspire to mover for their higher studies, along with that Student will have wonderful opportunities to get a global exposure through their classmates from different nations, Diversified Cultures and various opportunities to earn while they learn.
Triospace Overseas advises students on part-time work opportunities, internships, and post-graduation work options available in USA. They help students understand the regulations and benefits of working while studying, enhancing their practical experience and employability. In USA most of the Student will get an opportunity to work on Campus Jobs, which Involve Jobs like Teaching ,Graduate and Research Assistantships and student will have opportunities to work at food services, Library and Cafeteria etc.
For students considering long-term prospects in USA, Triospace Overseas offers guidance on pathways to obtaining permanent residency. In USA we have various options to enter as a F1 Student as once the student receives an Approval from the embassy, they receive a Visa Validity of 5 Years where they complete their Course with in 2 years along with CPT and OPT once the student finishes 1 year F-1 Visa Status. Post that Student starts their Job trails to earn some hands on experience based on their Masters program. According to their Visa status student receives H1B Sponsorship from any companies from USA They extend their visa and move further and set up their career.
Triospace Overseas ensures that students are well-prepared with the required documents for USA university applications. This includes academic transcripts, letters of reference, personal statements, language proficiency test scores, and any additional materials specified by the chosen universities.
Documents Required for Application processing.
SSC (10th Class)
Intermediate Certificate (IPE)
Provisional Certificate (Bachelor's Degree)
Original Degree (OD if not a recent passed out)
CMM and Transcripts
LOR- Letter of Recommendations –Minimum 3 required)
SOP (Statement of Purpose)
CV/Resume
Work experience If any (Offer letter, Pay Slips , Reliving letter etc.)
English Language Proficiency Certificate (IELTS,PTE & Duo lingo )
Passport Front and Back Copies along with pages printed for any Immigration history and other travel history If any
Bank Balance Certificate/Financial Affidavit
Applying to University Process
Triospace Overseas guides students through the university application process for USA. They assist in selecting suitable universities, completing application forms, writing compelling personal statements, and preparing necessary documents such as academic transcripts, letters of recommendation, and language test scores (e.g., IELTS).
Once the student is enrolled with Triospace ,Student receives shortlisted Universities based on their profile and student esteemed Universities ,Counsellors Start submitting the Applications to the respective Universities and will be in follow up with them. At the University level the Application processing starts with Academic Review, Department review, Release of Admission or offer letter and post that obtaining I20 from those Universities upon submission of Financial Documents and other required documentation as per the Universities Instructions.
Post Admission Visa Process
After receiving admission offers, Triospace Overseas assists students in the post-admission phase, ensuring a smooth study permit application process. They provide guidance on completing the application form, gathering necessary documents, and preparing for potential interviews.
Once we receive admission/Offer Letter we submit necessary Financial affidavit, Bank Balance Certificate /Loan Approval Letter in order to satisfy the Universities Tuition fee and Living expenses respectively.
Triospace Overseas explains the different types of USA study permits and visas. They outline the eligibility criteria, privileges, and limitations of each category, helping students choose the most suitable visa for their educational journey. The Visa type is F-1 Student Visa which comes under non-Immigration Category.
Triospace Overseas provides a comprehensive pre-departure checklist for students heading to USA. This checklist covers essential aspects such as travel arrangements, accommodation, health insurance, banking, and tips for adjusting to life in USA. By addressing these details, Triospace Overseas ensures that students are well-equipped for a successful academic experience.
In Triospace Overseas offers thorough and detailed support to students aspiring to study in USA. Their services encompass every stage of the journey, from university applications to post-graduation opportunities, ensuring that students have a successful and enriching experience studying abroad.
Documents Required for Application processing.
At Offsite Facilitation Centre (OFC) :